New Mexico
A visit of some cities and places in New Mexico: Las Cruces, Alamogordo and the Very Large Array.
Parenté :

New Mexico
---
Alamogordo
Alamogordo is located on the Tularosa Basin, which is important in the history of spatial conquest, with the Holloman Air Force Base and the White Sands Missile Range (8300 km², established in 1945 to test the rocket technology). Because of missile tests by this facility, the U.S. highway 70 is sometimes closed, as well as the White Sands dunes drive.
The space museum
This museum exhibits a large number of rockets, missiles and rocket engines. Close to this museum is the burial site of HAM, the first "astrochimp", launched in a Mercury capsule on January 31st 1961 and successfuly returned to ground, three months before the first manned flight of the NASA.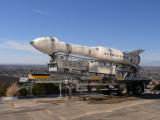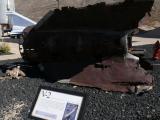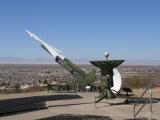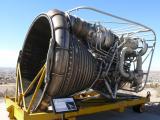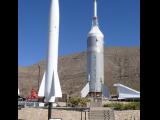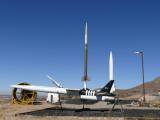 Inside the 4-floor building are exhibited several objects, samples and models that explain the history of the conquest of space. It contains interesting animations and posters, detailing the exploration of space by satellites and manned missions, how man lives, eats and works in space and how rockets fly.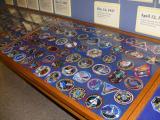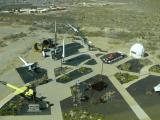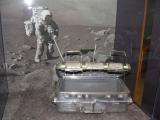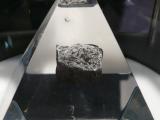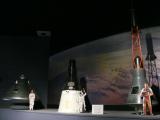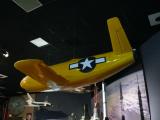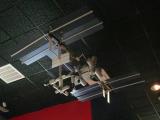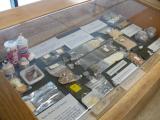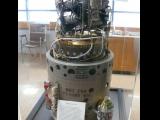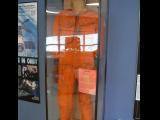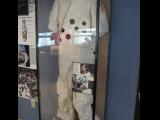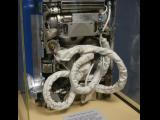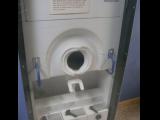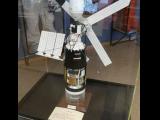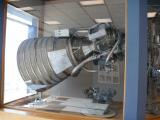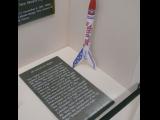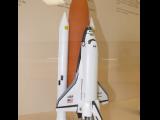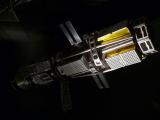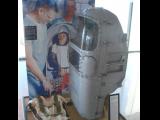 Saint Jude's mission
Saint Jude's mission is a quite modern and welcoming church, with beautiful stained glass windows.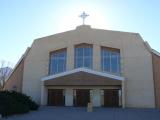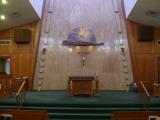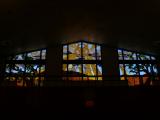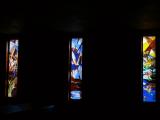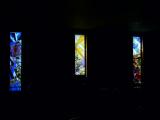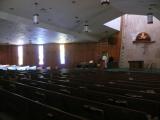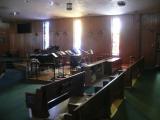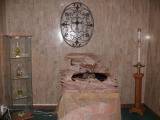 White Sands
This 580-km² dunefield is located in the Tularosa Basin (15 000 km², dominated by Sierra Blanca which is 3650 meters high). Along with Guadalupe Mountains National Park (a 350-km² park) and the Área de protección de Flora y Fauna Cuatrociénegas, it forms one of the three protected dunefields of the Chihuahuan Desert and was established in 1933. The visitor's center, an adobe brick building, was completed in 1938.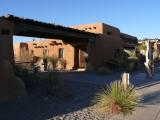 The white color of the sand is due to its chemical composition: it is made of gypsum, which can dissolve in water, and comes from the evaporation of a former sea.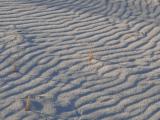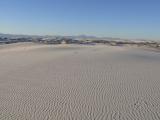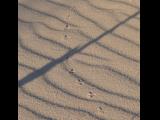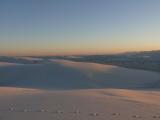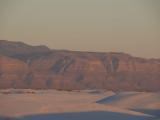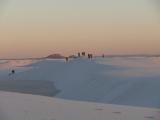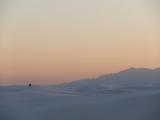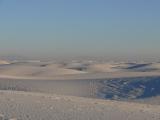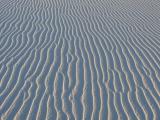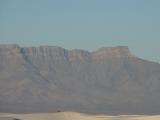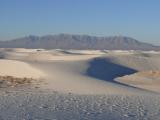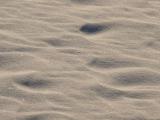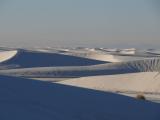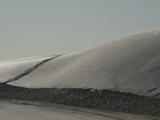 Some plants (such as acacias, mesquite trees, yuccas, agaves and cactuses) and animals (jack-rabbit, cottontails, foxes, coyotes, deers, roadrunners, turkey-vultures, rattlesnakes et tarentulas) manage to live in this environment.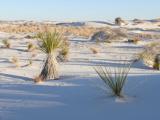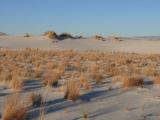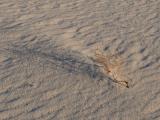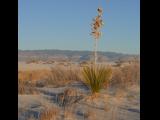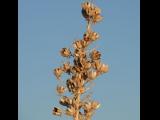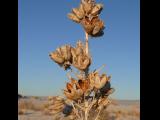 Albuquerque
The Saint John's Episcopal cathedral and the First Methodist Episcopal church are located close to each other in the downtown.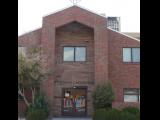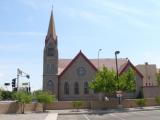 San Felipe de Neri church
The initial church of San Felipe de Neri was founded in 1706 by a Franciscan priest. It was finished in 1719 and collapsed in 1792. The new, and current, church was constructed in 1793 in adobe and the two towers were added in 1861. In 1878, the Jesuits built a school for boys adjacent to the church and in 1881, a convent was added for the Sisters of Charity who stayed until the 1970s. The church was restored in 1916 and 1995.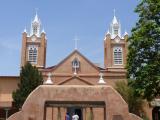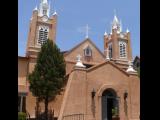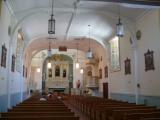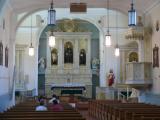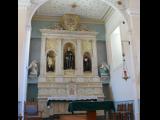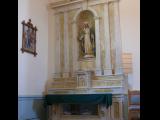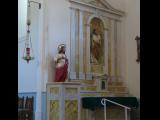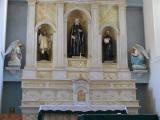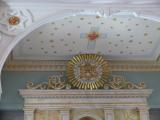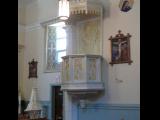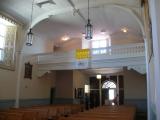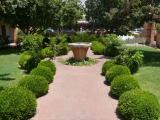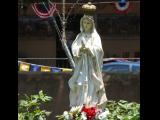 Petroglyph National Monument
This hill in the suburb of Albuquerque possesses several black basalt rocks on which petroglyphs have been carved between 1300 and 1600. They probably had religious meanings.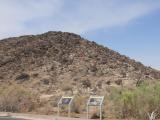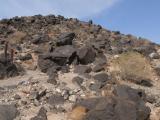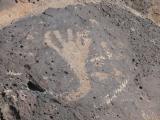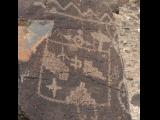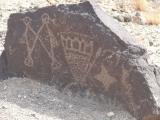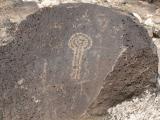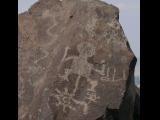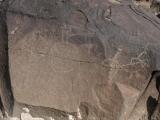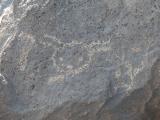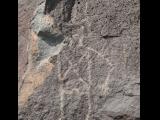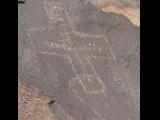 Gallup
Gallup is well-known for its murals. One of them represents the Navaro code talkers that had some importance during the Second World War.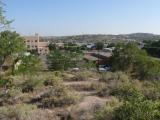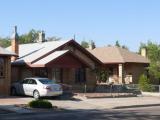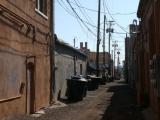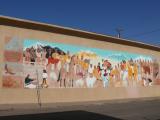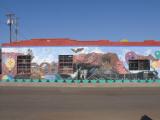 Sacred-Heart cathedral
This cathedral was built in 1955 on a paris church, built in 1916, which became a cathedral when the diocese was created, in 1939.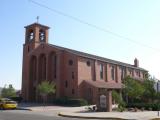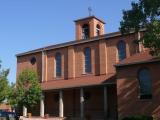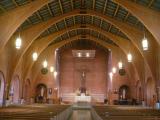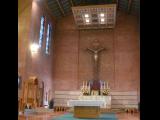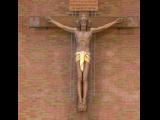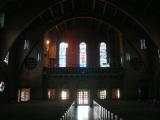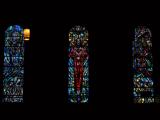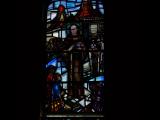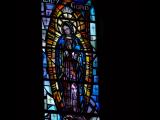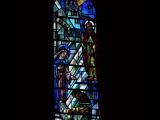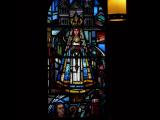 Saint Francis's church
The church of Saint Francis of Assisi is a modern church, associated with a school.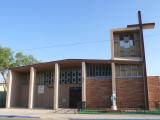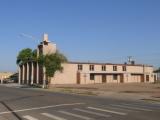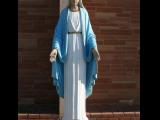 Las Cruces
Las Cruces and Mesilla belong to a territory which was claimed by both the United States and Mexico after the Mexican-American War. The dispute was resolved in 1853 by the US buying the land to Mexico. The railroad arrived in 1881.
Las Cruces is the second-biggest city in New Mexico, with about 100 000 inhabitants in 2011 (215 000 for the metropolitan area), after Albuquerque. It became a diocesisin 1982. The new city hall was opened in 2010.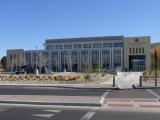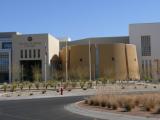 The cathedral
The cathedral of the Immaculate Heart of Mary, constructed from September 1965 to May 1966 in modern style, was itinially a parish church. It became the cathedral of the Diocese of Las Cruces in 1982.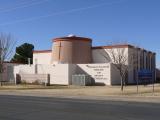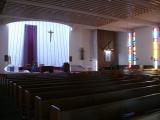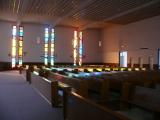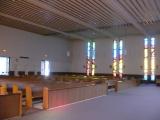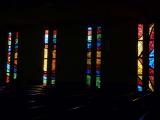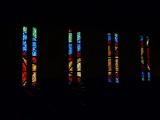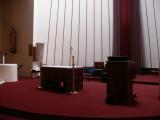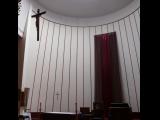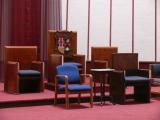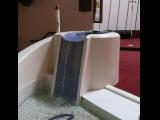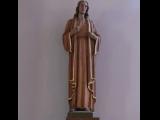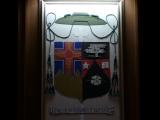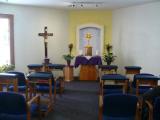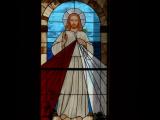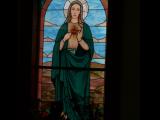 Our Lady of Health church
This church was constructed between 1993 and 1996 on a smaller chapel of the local mission, dedicated in 1956.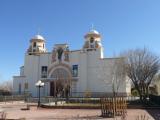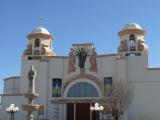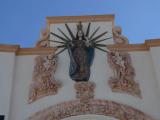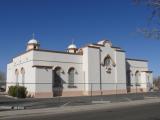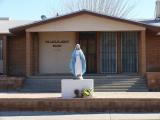 The State University
The New Mexico State University was founded in 1888 to teach agriculture and, later, mechanics. It enrolls about 20 000 students in 2009.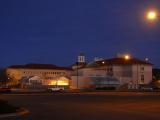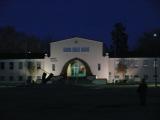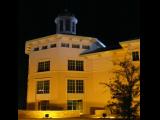 The old station
A first wooden depot was built in this place in 1881. It was replaced in 1910 by a brick building with separated men's and women's waiting rooms. The passengers service stopped in 1968 and the freight service in 1988.
The railroad station of Las Cruces is no longer desserved by trains; the rails are now used as a switching area. However, it is still possible to visit the depot since it has been transformed into a museum.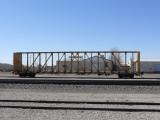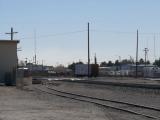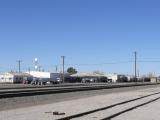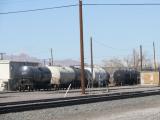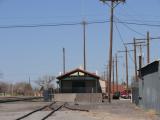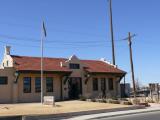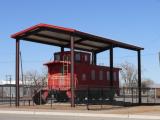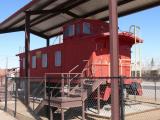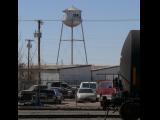 The museum contains a very nice model train and several objects that relate to the history of railroad transport in New Mexico.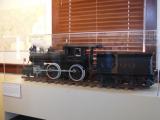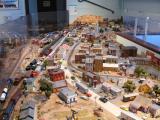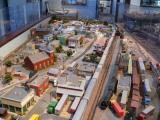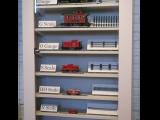 Aguirre Springs
Aguirre Springs is located on the East side of Organ Mountains which height reaches 2700 m. A trails lead to a mountain pass from which one can see Las Cruces.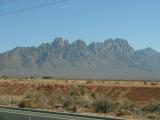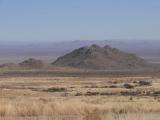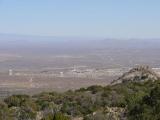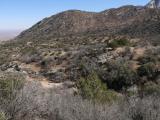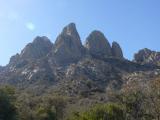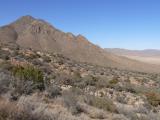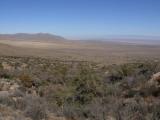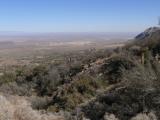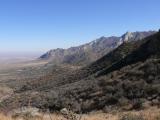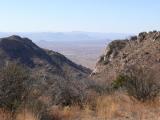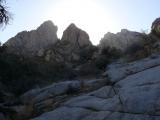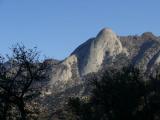 Santa Fe
Saint Francis cathedral
This cathedral, built between 1869 and 1886, is also a basilica. On the front of it is a labyrinth.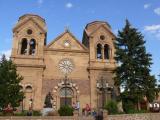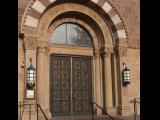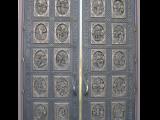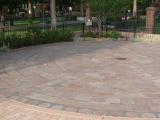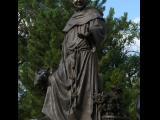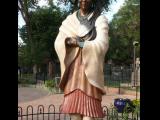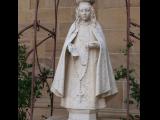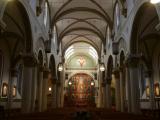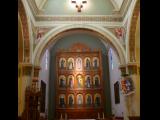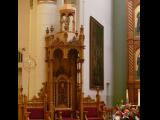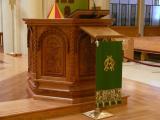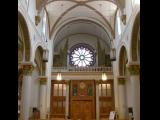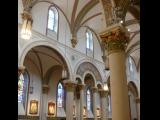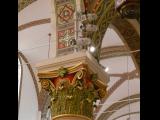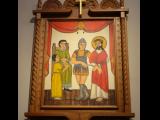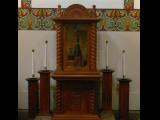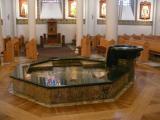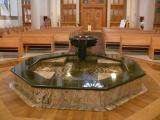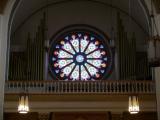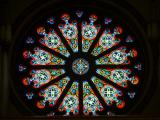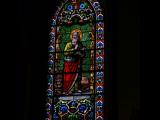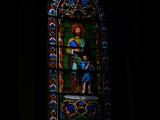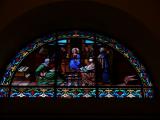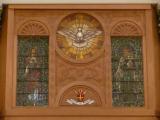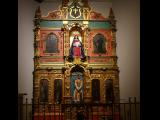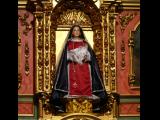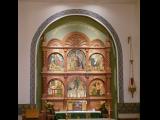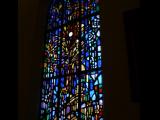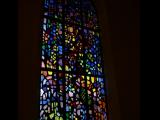 Churches
Loretto chapel
Four Sisters of Loretto arrived in Santa Fe in 1852 and created the first school for women in New Mexico, Our Lady of Light Academy. Between 1863 and 1879, they raised funds to build the Loretto chapel as their convent chapel.
The construction of the chapel began in 1872. Its is a gothic revival style church that looks like the "Sainte-Chapelle" in Paris. It is well known for its wooden spiral staircase, built without nails and without a central pole. The identity of its carpenter is not known and as it was built by an unknown benevolent man in a very short time after the sisters prayed for Saint Joseph's intercession, it is attributed to Saint Joseph himself.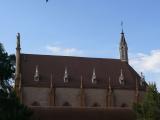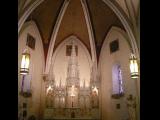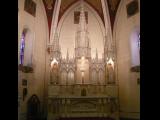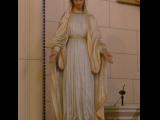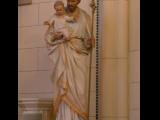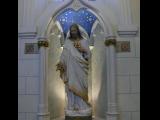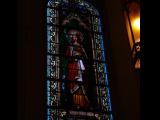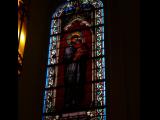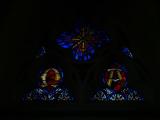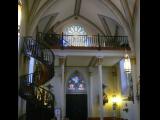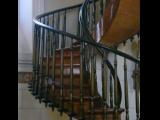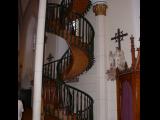 Mission San Miguel
This church was built in the 19th century on the ruins of the mission Nuestra Senora de Socorro, which was built there in 1626 and destroyed in 1680.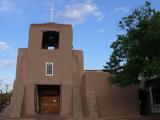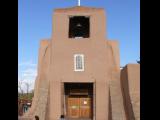 Church of Our Lady of Guadalupe
This church is located near the train station.
Other places
The governor's palace
This adobe building, located on the plaza of the city was built in 1610 for the Spanish governor Pedro de Peralta. It is now a museum.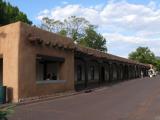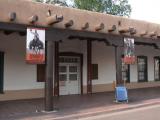 The Rio Grande
Near Santa Fe, a bridge crosses the Rio Grande which flows in a very impressive canyon.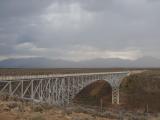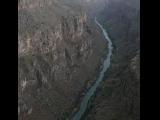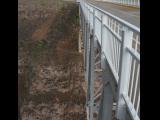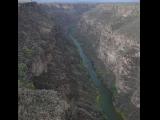 Taos
Taos Pueblo
San Geronimo church
This magnificent little church in adobe is dedicated to Saint Jerome. Near it remain the ruins of a former chapel, inside a cemetery.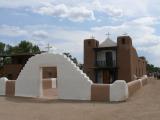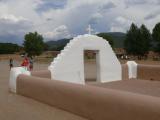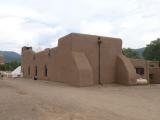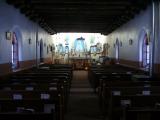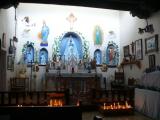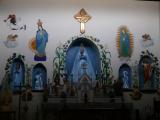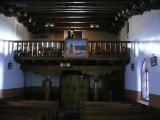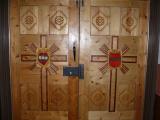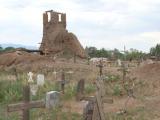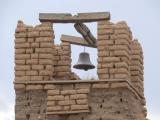 Other places
Very Large Array
This research center is constituted of 27 antennas used as a radiotelescope. Each antenna is 25 m wide and weights 230 t. The antennas are disposed on rails forming a Y which branches, on which they can move, extend up to 21 km around the control center. So, they behave as a single antenna with a diameter of 36 km.
The project is founded by the National Science Foundation for 78.6 million dollars. It was planned in the 1960s and the installation on the site began in 1974 and ended in 1981. The first antenna was completed in 1975.
Its purpose is to study the galaxies, pulsars, stars, planet and black holes, in non-visible frequency ranges. It does not participate the SETI project, opposedly to what was shown in the movie Contact in 1997.
The VLA is located on this site to benefit from the large and flat plains and is protected by the mountains from a lot of interferences. It is said that if a mobile phone was put on the surface of the Moon, it would be the most visible object in the sky!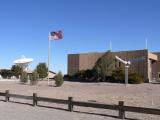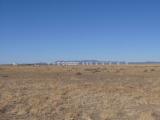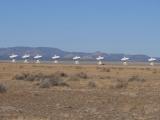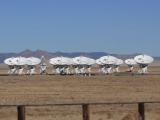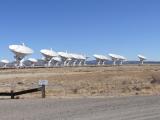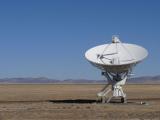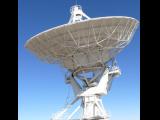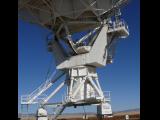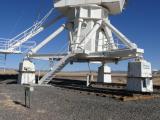 Small cities
Aragon
Aragon is a village located on the site of former Fort Tularosa. Its church is called "Santo Niño".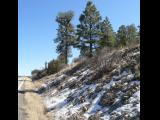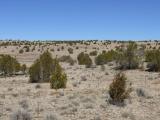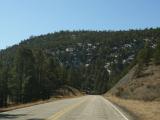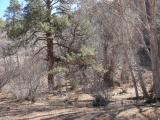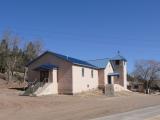 Caballo
This city is mainly known for its lake.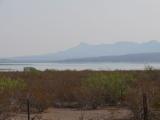 Cerrillos
This small village has a few old houses located near a church and railroad tracks.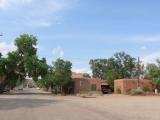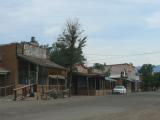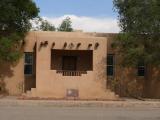 Saint Joseph's church is an adobe structure, built in 1922 under the direction of a Franciscan father. Cerrillos became a parish in 1939 and Fray Angelico Chavez served there from 1960 to 1964.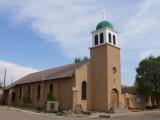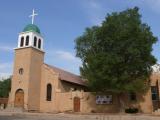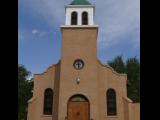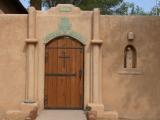 Corrales
San Ysidro's church is an very nice moderne church. Its interior contains interesting work of art, such as a patchwork tapestry and a retable of naive art.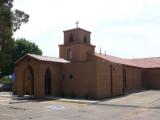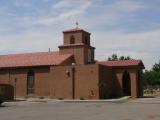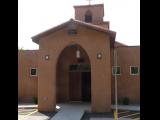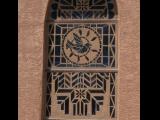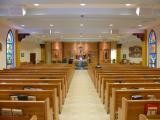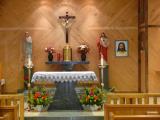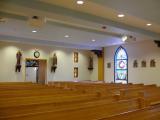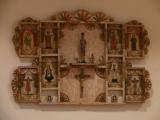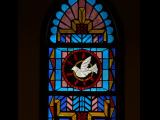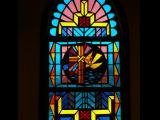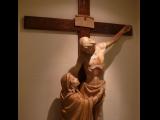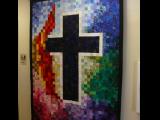 Datil
Datil is a very small village with abandoned houses at the intersection of U.S. Route 60 and New Mexico State Road 12, near the Cibola National Forest.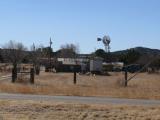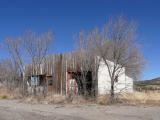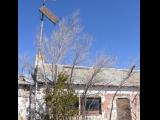 It has three churches, one presbyterian, one baptist and one catholic: the church of the Nativity of the Blessed Virgin Mary.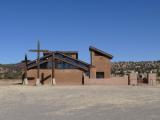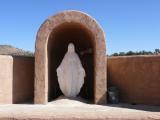 Deming
This small city located Southwest of New Mexico, in the Luna county, has a beautiful court. The former station has been transformed into a visitor's center, in front of which is an old steam train.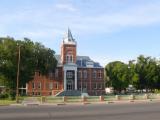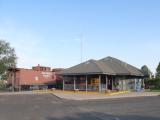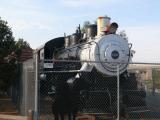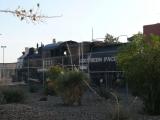 The church of the Holy Family is a modern church with a high bell tower.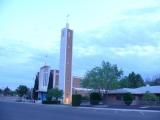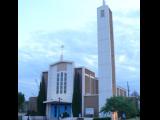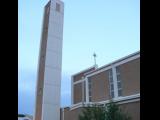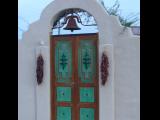 Saint-Anne's church has a Spanish mission-revival style. In front of it is a low-relief of Our Lady of Guadalupe.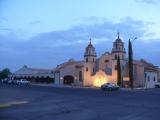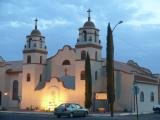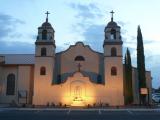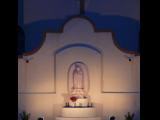 Española
The church of Our Lady of Guadalupe is a modern church with a very high roof.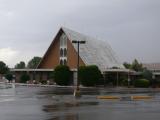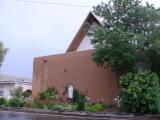 Glenwood
This town is located along the San Francisco River in the Gila National Forest. A trail leads to the hot springs. Another one, the Catwalk, to the Whitewater creek canyon.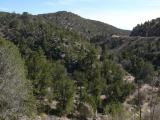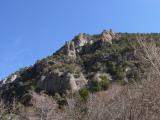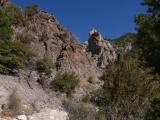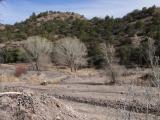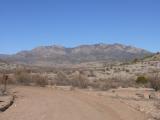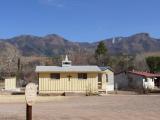 A fish hatchery raises rainbow trouts and release them in a pond.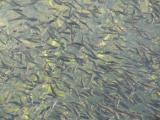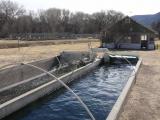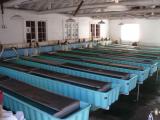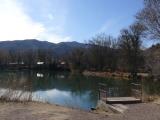 Golden
Golden is a ghost town with ruins which are remnants of mining buildings.
San Francisco's church was built in the 1830s and restored by Fray Angelico Chavez in 1960.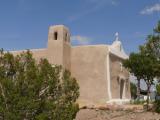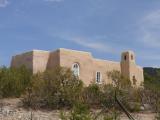 Hatch
This city was established in 1851 and abandoned in 1853 and 1860. Its original name was Santa Barbara. In 1875, it was occupied again and renamed after a military general.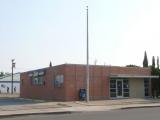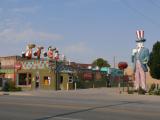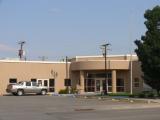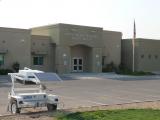 The church of Our Lord of Mercy was constructed in 1963. In the court of the house of the priest, just near it, is a low-relief of Our Lady of Guadalupe.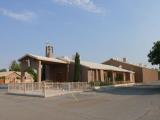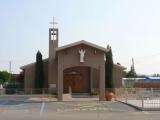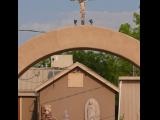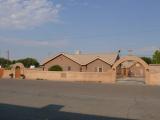 Jemez Pueblo
The church of Our Lady of the Assumption is a nice small church with a statue of Virgin Mary with Jesus Child in front of it.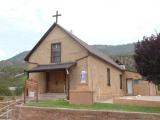 Las Trempas
The church of San José de Gracia is a magnificent adobe church and was built in 1760. The village was founded just a few years before, in 1751.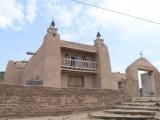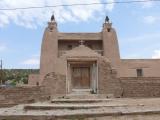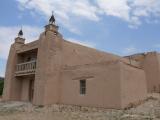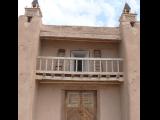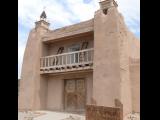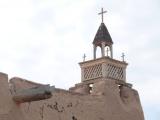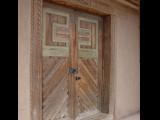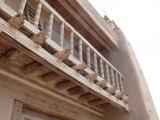 Los Lunas
Saint Clement's church is a modern building, constructed between 1949 and 1952. It has a remarkable choir providing light from above on the Crucifix and the altar. Statues such as the Holy Family and Saint Clement are very nice.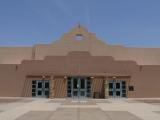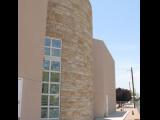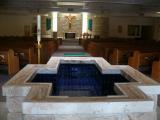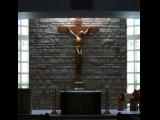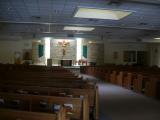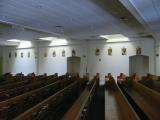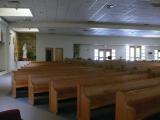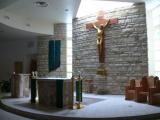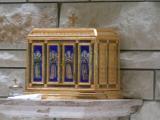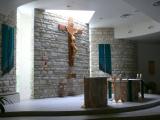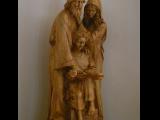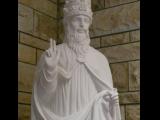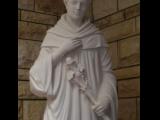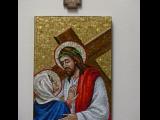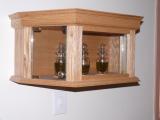 Magdalena
This village of about 1000 inhabitants is located near the site of the old Kelly mine. It is named after a local mountain.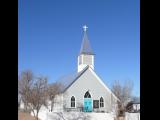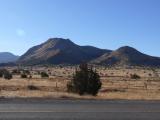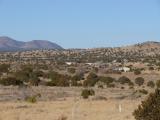 Mesilla
The city of Mesilla is very close to Las Cruces. The center is like a small village, with Mexican-style houses and shops.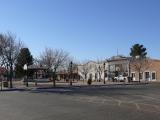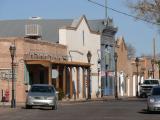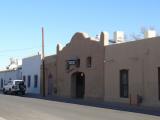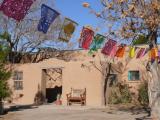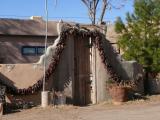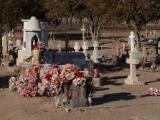 San Albino's church, built in 1906, was erected as a basilica by Pope Benedict XVI on November 1st 2008.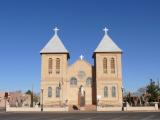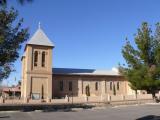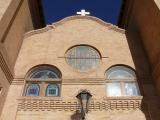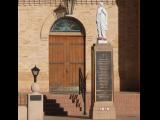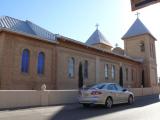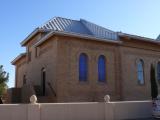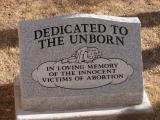 Nambe
The church of the Sacred Heart is an impressive adobe building. In the cemetery next to it, one of the tombs has the same shape as the church!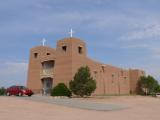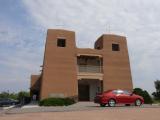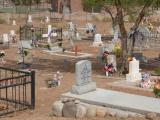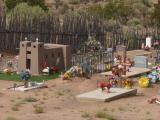 Peñasco
The church of San Antonio is a modern building with interesting work of art inside, such as an original representation of the Holy Family and an ancient wooden retable.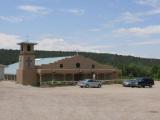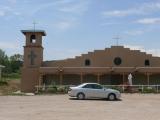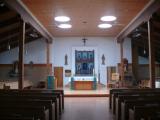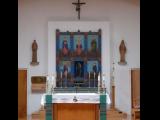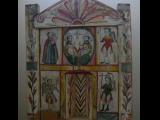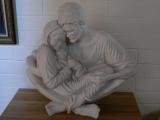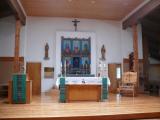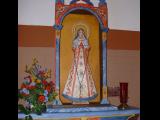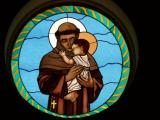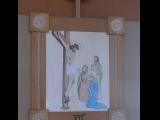 Ranchos de Taos
San Francisco de Asís church is an adobe building with large walls and small windows. The inside is rather dark and contains magnificent wooden retables.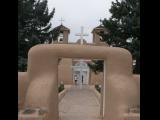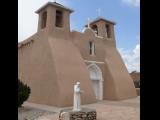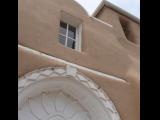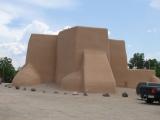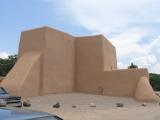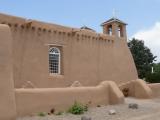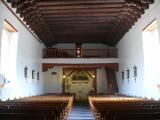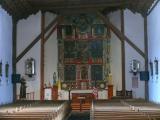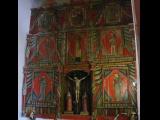 Reserve
This small city is the place of a famous gunfight between Elfego Baca and cowboys in 1884.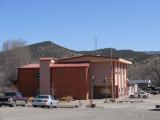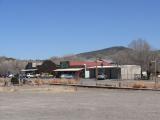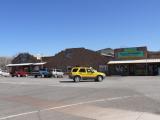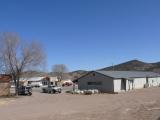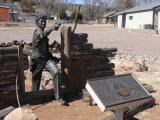 Salem
In Salem, a small oratory is constructed on the side of the main road.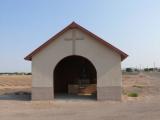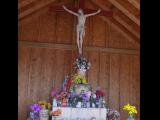 San Antonio
San Antonio's church is served by the priest from San Miguel's church in Socorro.
Socorro
San Miguel's church is a wonderful adobe building with a small patio in front of it. The house of the priest, just near the church is also very nice and made of adobe.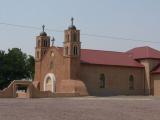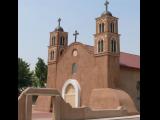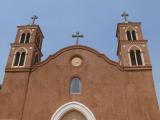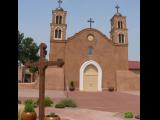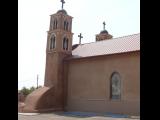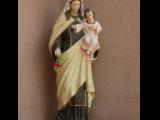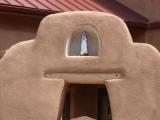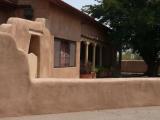 Three Rivers
This place, located in the Tularosa Basin, near the Sacramento Mountains, is known for its petroglyph hill. The Tularosa Basin has been inhabited for at least 10 000 years by people hunting bison, mammoths and camels. Close to this hill, a old native American village was partially excavated. It belonged to the Jornada Mogollon people, a native American tribe, who lived about 1000 years ago. They planted corn since about 300 BC and also beans and squash. The mountains around provided them with permanent water streams. Some houses had adobe surfaces and the dead were burried under the floors of the houses. The village was abandoned for unknown reasons around 1400 AD.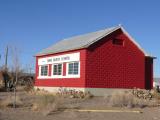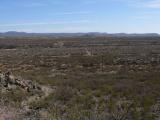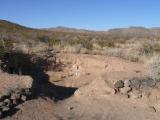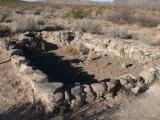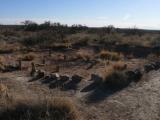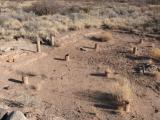 About 21000 petroglyphs have been counted on the hill. They are believed to be rock art of the Jornada Mogollon. They represent human faces or masks and hand prints, birds, reptiles, fishes, animal tracks, corn, clouds and geometrical shapes. They were carved with stone tools by removing the dark patina (oxidated layer) to the light inner layer of the rock.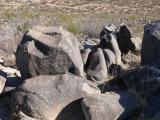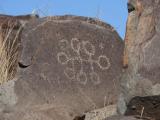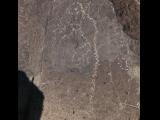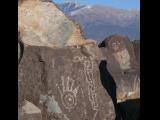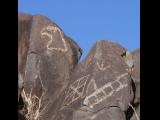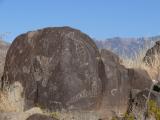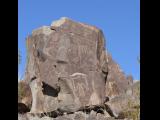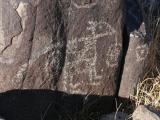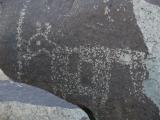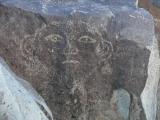 Truchas
The former mission of the Holy Rosary was built in 1764.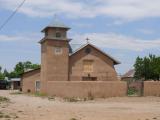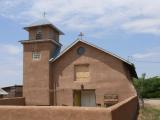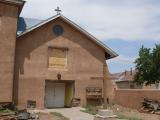 The new church of the Holy Rosary was built in 1965.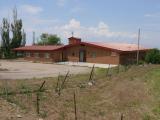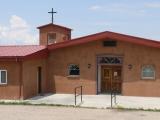 Truth or Consequences
Initially called Hot Springs, this city was renamed after a radio program in 1950. It is known for its hot springs, obtained from wells or flowing free.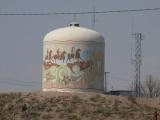 The modern church of Our Lady of the Perpetual Help has a neoroman style.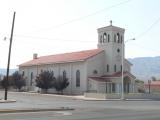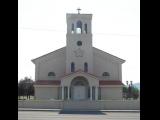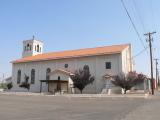 Tularosa
This village hosts the Rose festival.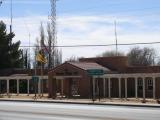 Saint Francis de Paula's church is a magnificent small church, built in 1865, with white walls, three bells on its front side and a replica of Lourdes cave. Inside, there is a statue of Our Lady of Guadalupe and a few statues in the transept.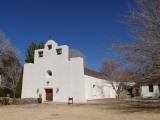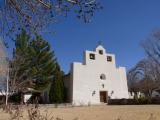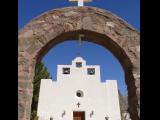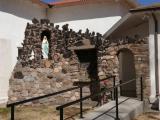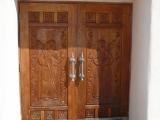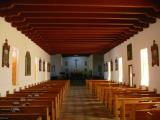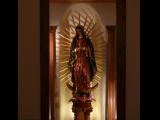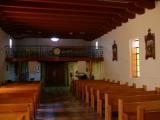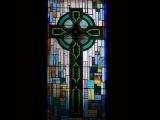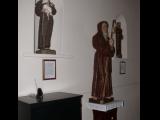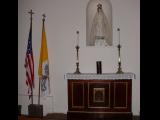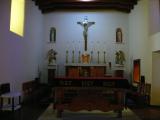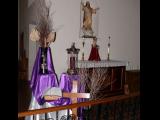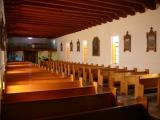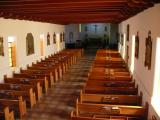 Valles Caldera
This village is located on a road between two ranges of red mountains with strange shapes.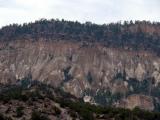 The church of Saint Mary Mother of the Priests is a modern white building.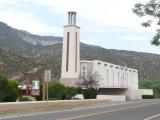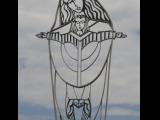 Zia Pueblo
San Ysidro's church is an adobe building with a blue door and a roof made of silver-color zinc tiles.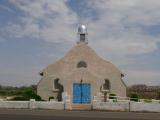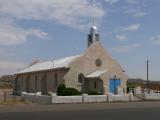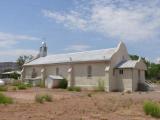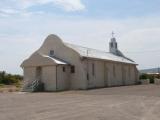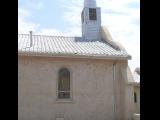 ---
Cette page en anglais a été créée par Peter à partir de notes de voyage, 15 février 2013 et modifiée pour la dernière fois 25 août 2020. Son avancement est noté 3/3.